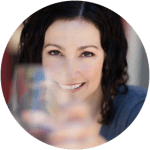 Kathryn Leehane is an American writer and humorist. She's penned essays ranging from ridiculously silly to heartbreakingly serious. One day she's recounting the horrors of her first (and last) Brazilian, and the next she's dealing with the aftermath of her brother's suicide.
Kathryn is a contributing author to several anthologies and has completed her first manuscript—a dark-comedy memoir about loss and survival. Her essays have been featured on dozens of popular websites, including McSweeney's, The Washington Post, Hippocampus Magazine, Ms. Magazine, Headspace, and The Huffington Post.
She is also the voice behind the humor blog, Foxy Wine Pocket, where she shares inappropriate (and only sometimes exaggerated) stories about life as a mother, wife, friend, and wine-drinker in suburbia.
She was one of the original staff writers at Scary Mommy and was a cast member in the 2015 production of Listen to Your Mother in Portland, Oregon.
Kathryn lives in the San Francisco Bay Area with her husband, two kids, and a menagerie of rescue dogs.